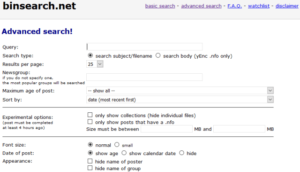 Binsearch.info highlights:
Search 1,100+ days of binaries
Search across 3,000 newsgroups
Display up to 250 posts per page
Search by subject or .nfo contents
Browse newsgroups
Free Usenet search
Binsearch features:
Binsearch.info gives you free access to an excellent binary Usenet search engine. Binsearch currently supports 1,100+ days of binary retention in over 400 newsgroups. Not to be confused for a Usenet provider or newsreader software. Both of which you will need to download from Usenet. Binsearch will help you find what your looking for across millions of newsgroup posts without the need for downloading headers. Along with the search function, you can also browse individual newsgroups.
NGR Tip
: We recommend
Easynews
for complete all-in-one Usenet access. It does not require access to NZB or indexing sites and includes everything you need for your Usenet setup:
Unlimited high-speed Usenet access
The best retention rates (access to the most Usenet posts)
A Usenet search interface with the fastest, most accurate search results
Built-in search previews
No newsreader software, NZBs or Usenet search engines are needed. Setup is instant (no configuration necessary) and Easynews can be access from all your devices, including mobile.
[Exclusive Deal – 80% Off] Get 3 FREE months plus 30 day money-back guarantee.
Search statistics:
Search up to 1,100 days of binary retention
Search across 3,000 groups, 400 most popular groups by default
Search engine displays up to 250 results per page
Search options:
Subject
Filename of a post
Contents of an .nfo file
Binsearch filter options:
Limit search to a newsgroup
Limit search to a certain time frame
How to use Binsearch:
Search for your subject of interest. Once you find the binaries select the file or files by checking the box to the left of each one. After all files are selected click the "create NZB" button to download the associated .nzb file. Then open the file into your newsreader. Depending on how your Usenet client is setup you may be able to simply double click the .nzb file and have to automatically open up and download the contents.
Note: save the .nzb file to disk and then open it. Trying to open it directly in Internet Explorer could result in in a renamed file extension and cause problems.
Binsearch is free:
Binsearch is free to everyone
Binsearch does not accept donations. They recommend donating to Amnesty International or Unicef.