| | |
| --- | --- |
| Provider | Newshosting |
| Retention | 5,300 days |
| Servers | US, NL, DE |
| Usenet browser | Included |
| Search engine | Included |
| VPN Service | Free with annual |
| Price | $5.99 a month |
| Discount | Save 70% now! |
What is Newshosting
Newshosting is a tier-1 Usenet provider that directly manages every aspect of its Usenet service — from having its own in-house teams of network engineers, software developers, and customer support assistants all the way to owning and operating its own private server network. When you sign up for Newshosting, you can expect the best retention rates, best speeds, and best customer support of any provider on the market. They partnered with PrivadoVPN to offer a zero-logs VPN service and SOCKS5 proxy for members. We'll show you how to get the VPN free of charge so you can enjoy unlimited Usenet access along with the extra layer of privacy protection for all your online activities.
Newshosting has been in business for nearly 20 years and offers the best premium Usenet service at the best price. They have servers located worldwide and have the fastest and most reliable network that will deliver very good speeds, regardless of your location. Newshosting also has the most text and binary retention in the industry and have increased their retention daily across all their servers starting nearly 11 years ago. The sheer amount of retention they provide is impressive and a standout feature that makes them the best in the business. When you compare their ~13 years of retention to other private Usenet server providers who offer as few as 75 days of retention, the difference in the amount of articles you are actually getting access to is in the billions. Dollar for dollar, the much larger library of articles you get with a Newshosting Usenet access plan makes it an exponentially better value than pretty much any other option out there.
Newshosting also provides a free newsreader for all customers, free trial members included. This is an excellent newsreader that makes it easy to search Usenet and includes many helpful features like file thumbnail previews, download scheduling, and download speed charts. While Newshosting provides SSL-secured access to all of its servers, they also offer a zero-log VPN (included free with the yearly account through NewsgroupReviews) if you want an extra layer of privacy protection for your online data.
Newshosting Discount
Newshosting offers three different Usenet access plans, but before we outline them for you, we're excited to announce an exclusive discount that Newshosting is kindly offering our visitors. You can get unlimited Usenet access with uncapped speeds, 100 connections, free SSL, a free newsreader, a free zero-log VPN, and access to the longest article retention in the industry for $5.99 a month with an annual subscription (regular monthly price is $19.94 with VPN). This is a limited time offer that will save you 70% with 3 months free.
| Term | Retail Price | VPN | Sales Price | Discount |
| --- | --- | --- | --- | --- |
| 1 Year + 3 Mos. Free | $239.28 | VPN included | $89.99 | 70% off |
| 1 Month | $14.95 | $4.99 addon | $9.99 | 33% off |
Payment options include Credit Card (Visa, MasterCard, American Express, Discovery, JCB, etc) and Paypal. Those who like to manage the billing for all your online accounts from one centralized location may prefer Paypal. At the time of this review, Newshosting doesn't accept Bitcoin, but we're hopeful that cryptocurrency payments will come soon.

Retail Usenet Plans and Pricing
Newshosting offers three Usenet plans based on monthly usage, the number of connections, and whether or not the zero-log VPN is included for free vs being available as a $4.99 add-on service.
| Plan | Month | Year | Downloads | Conn. | VPN | Free Trial |
| --- | --- | --- | --- | --- | --- | --- |
| Lite | $10 | $120.00 | 50 GB | 30 | $4.99 addon | 14 days/30GB |
| Unlimited | $14.95 | $155.40 | unlimited | 30 | $4.99 addon | 14 days/30GB |
| XL Powerpack | $19.95 | $189.95 | unlimited | 60 | included | 14 days/30GB |
NGR Tip: The plans above are the normal, full prices. NGR visitors get an exclusive limited time offer on the Unlimited plan in addition to 3 free months. This is the best price available anywhere plus you get free no-log VPN service (more details).
Plan
Month
12 Mos. + 3 Free
Downloads
Conn.
VPN
Unlimited
$14.95
$9.99
$299.10
$89.99
unlimited
100
Included
free
w/annual
Newshosting Retention and Support
Newshosting started providing Usenet access nearly 20 years ago and is known for providing access to the most days of binary and text retention anywhere. They were the first Usenet provider to announce plans to upgrade retention back in 2009 and have grown their retention by 1 day every day since that time. This means they have never expired articles on their servers since nearly 11 years ago and currently provide 5,300+ days of retention on all of their Usenet servers worldwide. This amount of retention is huge and when you compare it to other private Usenet services that offer 1 year or so of retention, you are getting access to 3,400,000,000 more articles with Newshosting.
In addition to offering the most retention of any Usenet provider, Newshosting also offers some of the best customer support on the market with a professional staff that is available 365 days a year, including all major holidays. Their site also has a useful Support Center with FAQ's, a support search engine, a link to download the newsreader, as well as their server address and port numbers for those who prefer to set up their own preferred newsreaders like SABnzbd and NZBGet. A tutorial series is also available to help get you started using and getting the most out of your account.
Newshosting Usenet Browser with Built-in Search Engine
All Newshosting plans include a free copy of the Newshosting newsreader. The exclusive NGR discount also gets you a free trial that includes 750 GB of high-speed Usenet downloads, which is ideal to test out both the Usenet service and the free newsreader.
The free newsreader is very well built and includes many useful features that make it easy to access articles, both text and binary, across all newsgroups on Newshosting's servers. The default interface has a search feature that returns fast and accurate results.
For those who want to narrow down their search results even further, you can sort the results by file size, post date, and newsgroup posted to. There is also an advanced search feature available that will allow you to further customize your search by setting a date range, file size range, and language.
The Newshosting newsreader also allows you to preview files with thumbnail images, which is very helpful when scrolling through the search results. The newsreader automatically repairs and extracts the files as well, saving you some extra steps.
How to Use Newshosting
A couple of other notable features that we like about the newsreader is that you can manually look through all text and binary newsgroups through the newsreader interface. To make things even simpler, you can bookmark your favorite newsgroups to create a shortlist for yourself. Lastly, there is an automated search feature that you can use to set your search queries and parameters, then have the newsreader automatically run checks for you at specified days.
We really recommend trying the Usenet newsreader for yourself to find out just how easy it is to use. Also remember that you get an exclusive 1 week free trial with 750GB of high-speed downloads exclusively through NGR, so it is definitely worthwhile to check out even if you're currently using a different Usenet service or newsreader.
Referencing the screenshot above, we ran a search for "Ubuntu," then filtered our results to ISO images by clicking the "ISO Images" button. After running our search, we queued up a 856 MB Ubuntu collection and the file transfer completed in less than a minute. As you can see in the connection graph on the lower left part of the newsreader, we averaged 11.4 MB/s speeds. If you convert the Megabytes (MB) to megabits (mb), the results show that we averaged a download speed of over 90 Mbps on a set of binaries that were nearly 13 years old.The Newshosting client also repairs (which was not needed in our case) and extracts the files automatically for you so you won't need WinRAR, 7-Zip, or QuickPar. Just go to your downloads folder after the transfer is complete to access your file.
Newshosting Server Info and Ports
If you use the Newshosting newsreader, you will not need to enter any news server information as it's preconfigured with your account. However, if you use your Newshosting account with a 3rd party newsreader like SABnzbd, you will need to enter the news server address and port number. Here's the information you will need to get set up.
News server address: news.newshosting.com
Default NNTP port: 119
Alternative NNTP ports: 80
Default SSL port: 563
Alternative SSL port: 443
Please note that the news.newshosting.com server address is the default server address, which will automatically route you to the best server farm based on several real-time factors like geographic location and server ping time. If you prefer to connect to a specific server, you can do so with the following server settings:
United States news server address: news-us.newshosting.com
Netherlands server address: news-nl.newshosting.com
Germany server address: news-de.newshosting.com
Not to get too technical, but IPv6 will become more popular as time goes on. Newshosting fully supports IPv6 connections. Here are the server settings for IPv6 connections:
United States IPv6 server address: news-us6.newshosting.com
Netherlands IPv6 server address: news-nl6.newshosting.com
Germany IPv6 servers address: news-de6.newshosting.com
Once again you won't need to enter the news server addresses or port numbers if you are using the Newshosting newsreader. If you prefer to get hands on and run some of your own speed optimization testing, however, you can go to Options>Settings>Connection to change your port number, the number of connections you'd like to use, and whether or not you prefer SSL encryption (recommended).
Newshosting VPN Client Testing
The exclusive NGR promotion gets you lifetime discounts on Newshosting's Unlimited plan. There are 2 options — Both include unlimited downloads, unlimited speed, a free newsreader, and access to all retention, but the annual option comes with a bigger discount and also includes free zero-log VPN access:
Newshosting 12+3 Deal — $5.99/mo ($89.99 fpr 12 months + 3 months free), which is a 70% discount and comes with free VPN.
Monthly Unlimited Account — $9.99/mo, which is a 33% discount and does not include free VPN. It is, however, available as an add-on for $4.99/mo.
We're excited to share that Newshosting has partnered with PraivadoVPN which is a very good solution for unblocking access to content around the world.PrivadoVPN has hundreds of server locations across more than 45 countries. By taking advantage of our promo you will gain full access to their network with unlimited bandwidth usage. You can install the app on as many devices as you want and connect on up to 10 at a time. PrivadoVPN has apps available for Windows, macOS, Linux, iOS, and Android. They also have an app for Amazon Fire TV devices. Having a Firestick app extends the usability of the service quite a bit.
PrivadoVPN does not record, monitor, or store any logs whatsoever of your activity. In addition, they allow all web traffic to pass through their servers. As a Newshosting member with PrivadoVPN, you can access any of their servers worldwide. There are no limitations. Speeds are quite good. You can always expect a slow down since your data is being encrypted but we were able to achieve download speeds of 150-200 Mbps on several VPN servers.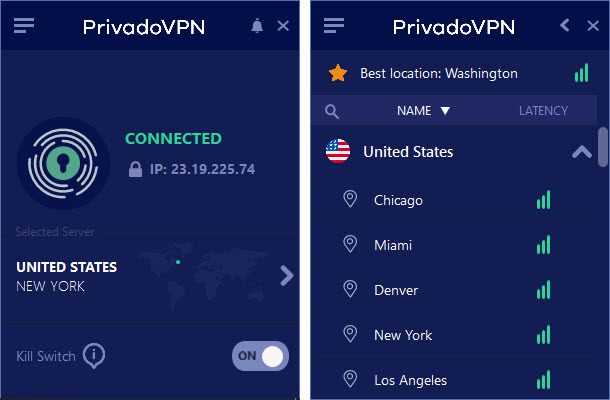 Above is a screenshot of the VPN interface for the Windows client. There are hundreds of servers to choose from in over 45 countries and you can switch server connections as many times as you'd like with no limits on your traffic. To change a VPN server, just click once on a server of your choice, then click the Connect button. PrivadoVPN will then connect to the chosen server and list your new IP address and VPN server location.
Most people will leave the default settings but we wanted to take a moment and cover some of the basics for more advanced VPN users. First of all, we recommend that you enable the kill switch. You can do this from the main screen of the app or in preferences. The VPN kill switch will stop your computer from communicating if the VPN drops for any reason. Even the best Internet connections drop from time to time. Enabling the kill switch will help ensure that your IP address and data are protected until the VPN can reconnect.
You also have the option of setting the protocol used by the app. Most users will want to leave the automatic settings in place. You can play around with it best on your goals. For example we like to use IKEv2 on mobile devices and OpenVPN UDP provides a nice mix of privacy and performance. We hope to see PrivadoVPN add support for WireGuard in the future but for now there servers are plenty fast enough with the current protocols.
Conclusion
Newshosting is our top recommended Usenet provider and the recipient of our 2023 Editors' Choice award. They have spent the last 20 years building an outstanding private Usenet network that delivers the highest level of service and reliability along with the most binary and text retention available anywhere. They also provide a free full-featured newsreader with a Usenet search tool with all plans, including their free trial. You can sign up with our exclusive discount to get 70% off with 3 months free and enjoy unlimited Usenet, unlimited download speeds, a free newsreader, and also get a zero-log VPN account included free.